Old Salt-
The Marketplace
5027 N.E. 42nd Avenue, Portland, OR 97218
What we do.
Located in the historic Cully neighborhood, in Portland, Oregon, Old Salt is a fully formed food system, sourcing the absolute best meats, produce and artisan products from our region. Our Supperhouse, serving distinguished American fare seven nights per week, turns those ingredients into one of Portland's finest dining experiences. Our meat counter is Portland's premier whole-carcass butcher shop, displaying every cut from our partner ranches, including fresh sausages, smoked meats and deli meats, made in-house. Our counter is also a full-service deli, serving simple lunch on weekdays, and prepared salads and deli fare everyday. We also love to showcase our private event space, the Carver Dining Room, as well as a full curriculum of classes in butchery, charcuterie, baking and pastry, and other kitchen skills!
Old Salt is a value-driven business. We measure our products and decisions on a set of values we hold dear. They include consideration for our customers, our producers and our employees. We believe that doing things the right way, and for the right reasons, will pay off in the longrun!
Our Values
Honesty- we will always tell you the truth about our products. Always.
Transparency- No smoke & mirrors. We want to make sure you know exactly how we produce all of our products. We want you to know where we source them. We don't have anything to hide.
Access- Helping give you access to the amazing meat and vegetables we have, is our main goal! We want to make sure our community gets the most delicious, healthy food in our region.
Craft- We make things the right way--by hand, in traditional means. That is why our food tastes so much better. Automating process only saves money. It never saves flavor.
Quality- We absolutely have the best meat and vegetables in our region. Starting with the best ingredients allows us to treat them as gently as possible, to bring you as close to the field as possible. We never skip on quality.
Direct relationships- Our meat and vegetables are brought through our door by the individuals who raise and grow them. Our relationship with our ranchers and farmers allows us to get the absolute best that they have to offer. It also allows us to make sure those producers get what they need to keep their farms thriving.
Education- Not everyone has a Grandma to teach them how to lovingly prepare the food they love. It is our goal to help you know how to prepare the foods we sell. Not just the easiest way, but the best way--the way we do. We have a whole school based around helping our community build better cooks.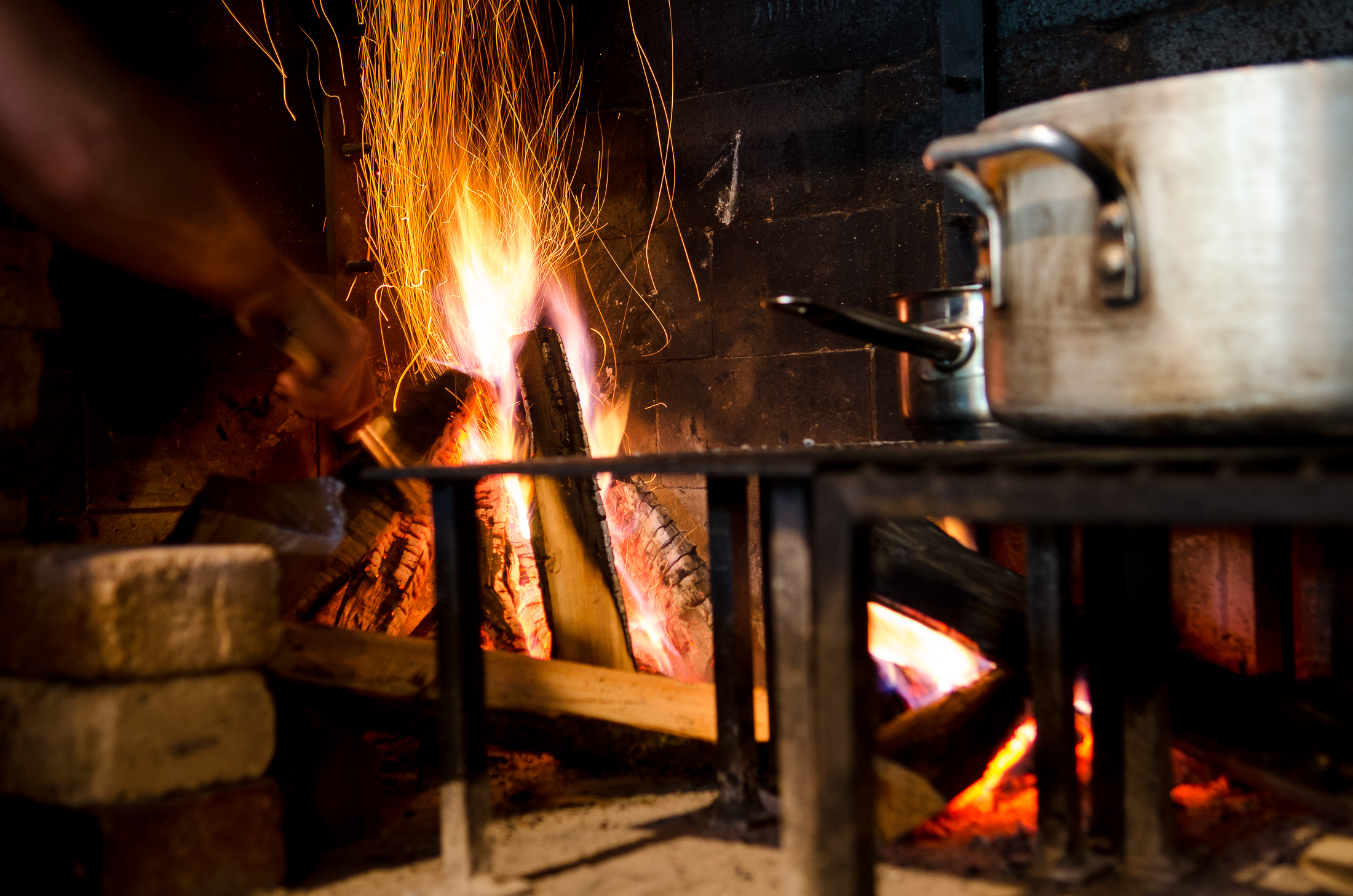 The Supperhouse
The Supperhouse is where we showcase our work. We bring together all of our programs to build an experience for you to enjoy our work. Our menu is centered around an open wood-fired hearth, where applewood and oak kiss our finest steaks, thick-cut chops and our freshest vegetables. We use local grains to roll out fresh pastas, and ferment or brine a whole rainbow of pickles. We craft cocktails from local spirits, foraged goods and the best fruits from our farms. We focus every detail we can on giving you the most comfortable experience we can offer, so you don't have to wish for anything else. From the minute you walk in and see the open fire until you have finished your digestif and dessert, we hope that you will forget the outside world and enjoy the fruits of our labor.
Our menu is not based on a cuisine -it is focused on ingredients. We ask our farmers what they grow best. Then we treat those vegetables as best we know how, in order to showcase their finest qualities. We build dishes from what we are brought. We don't rely on high technique to improve mediocre ingredients. Our menu pulls from techniques and cuisines from around the globe. At any time we may have dishes on our menu that reference cuisines from Latin America, the Southern United States, and Northern Europe. We love food. Our chef, Ben Schade, spends nights pouring over farm lists, and mornings at the farmers' markets selecting the ingredients that drive the menu from day to day. As ingredients come and go over the season, dishes appear, change and go away until the next season.
We offer a nightly selection of Butchers' cuts from our case, grilled ala carte over the hearth. Ask your server for the night's selection.
We also offer you the option of leaving it up to us to prepare you the menu we would want. If you "Let us Cook for You", then you can select the price you would like, and we send dish after dish, some from our menu, some impulse dishes we create just for you. It is our favorite way to craft the perfect meal for you.
Of course we take reservations. We love large parties. And, should you want a more intimate experience, our Carver Room is the perfect private dining room for everything from an intimate gathering of friends, to a raucous holiday party for co-workers.
Have a look at our current menu to see what we are currently offering.
Our Meatshop & Market
Often recognized as Portland's premier butchershop, we are certainly Portland's only true whole-carcass butchershop. We pride ourselves in offering the finest fresh beef, pork, lamb, and chicken, as well as a large selection of handmade salami, smoked meats, pates and terrines. If you are looking for the best sausages in town, we offer more than 30 different flavors and styles of fresh links, bulk sausages, and smoked links, all made from the same fine pork that we break down in our shop. We don't cheat and buy trim from outside wholesalers to fill our case. 100% of our meat comes from our whole animals, cut, cooked and cured in-house.
We have a traditional butcher counter so you can ask for exactly what you want, even if you're not sure what that is. We love to custom cut, and cut-to-order so you get just what you are looking for. We stake our business on being able to get you whatever you'd like. We are a full-service shop. For a better idea of what we offer, come in and check us out, or take a look at our products page.
We stock our shelves with local and artisan products to help you fill out your meal at home. We sell the same high-quality oils, vinegars, grains and beans that we use in our own kitchens. We also have a selection of wine, beer and other drinks to round out your meal at home.
The shop is open from 11am-7pm every day.
Weekdays we also offer a full-service deli lunch from 11am-3pm.
We use the same high standards to craft our full menu of award-winning deli sandwiches, prepared salads, soups and comfort fare. Showcasing our housemade deli meats and sausages, we host a rotating selection of sandwiches to match the weather. Walk on up and order your lunch and we will call out your name when it is ready. Relax and enjoy a beer or a bowl of soup, read the paper or get some work done. And don't forget to grab some meat for dinner before you go!
Our deli also serves up a Grab'n'go meal weeknights from 5-7pm. The meal changes nightly, but it's always $10 a head, for meat and sides...everything from grilled chicken, baked beans and kale salad, to meatloaf, mashers and grilled green beans. Always comfort and always from the same farms and ranches. We post the Grab'n'go everyday on our facebook feed, as well as on our homepage, so don't forget to check out what is on for today. You can call ahead so we have it hot and ready to scoop up on your way home, or stop on in and we will get it packed up for you right away.
Check out our current menu to see what we have to offer for weekday lunch.
Our Carver Room
Tucked away in the back of our space is a secret space, which we call the Carver Dining Room. It is a humbly decorated space, which acts as part classroom for our class series, part production space for our food programs, part hosting space for pop-ups (such as Maya Lovelace's award-winning Mae dinner series), and part private dining room for special events. During the Winter, the space comfortably seats up to 40 guests, at rustic wood tables. During the warmer months we can roll up the wide garage doors and welcome groups of nearly any number. We host intimate private dinners for 8 guests, to tailor a world-class personal meal all the way up to wedding dinners for 100 at sprawling tables across our back lot. From plated quiet gatherings to raucous hog roasts on our low-country pit. We love the chance to lay out a fantastic experience for you. We don't send out cookie-cutter meals for you to choose. We custom-write a menu for you to review. We want to make sure that we are building you the perfect experience.
If you are looking for the right space to host your company party, your wedding reception or just host a great birthday party for a friend, then please fill out this simple form and we will get back to you just as fast as we can to get to work building your event.
OUR STORY
Old Salt is the generations in the making. Built by three partners, it is an extension of their previous works. Alex Ganum, who holds a degree in culinary arts, founded and is the head brewer of Portland's iconic Upright Brewing, which focuses on unique styles that blend historic French and Belgian elements with his own methodology. Alex grew up near Detroit and moved to Portland in order to attend Western Culinary Institute, but decided upon completion that he wanted to focus on craft brewing. After training at at Brewery Ommegang, in Cooperstown, NY, he moved back to Portland, and worked in several small breweries before striking out to build Upright. Upright produces some of Portland's best barrel-aged beers, creative collaborations, and seasonal ales, sourcing from the best orchards and hop farms in our region, but they also brew the award-winning Engelburg Pilsner year-round.
Marcus Hoover met Alex in Culinary program in 200x. Marcus had spent his life as a carpenter and cabinet builder. After a motorcycle accident, he decided to train as a chef, and make the jump into kitchen life. He built and ran Genie's Cafe, in Portland, which sourced local meats and vegetables for its casual breakfast and brunch menu. After 3 years, he decided to combine his skills and began designing restaurants and kitchens for Rose's Restaurant Equipment. He has designed and built many of the most famous kitchens in Portland over the last 13 years. Marcus is responsible for the rustic interior of Old Salt. He turned an old barn into the beautiful details that make our space so warm and inviting.
Ben Meyer, head of Operations for Old Salt, was born in Fort Wayne, Indiana --the son of Low-German farmers. After working in kitchens in Minnesota, Wisconsin and Indiana, Ben moved to Portland in 1999 because of the vibrant network of local farms and culture of food that was already so robust. Ben met Marcus during his tenure at Genie's, where he was hired to help manage the kitchen and redefine the food. He left there to work on the opening line of Toro Bravo, John Gorham's now-famous Spanish-inspired restaurant. From there Ben took a job as a butcher, managing the smoked meat production for a natural market, for three years. He then struck out to open Ned Ludd with Jason French. The two built and ran their eclectic menu solely with wood-power, from a single wood oven. Sourcing exclusively from local farmers and ranchers, they staked their business on the integrity of the ingredients from their producers.
Alex, Marcus and Ben decided to open Grain & Gristle in 2010. Their goal was to use the same strict sourcing practices and dedication to craft in a more approachable environment where the connection with beer is the focus. They wanted to prove that the same ethos powering high-end restaurants could power a simple neighborhood tavern. Their belief paid off in amazing support from the Portland community, and they decided to expand their concept to include more direct access to the products they use. That meant a butcher counter, an FDA certified canning kitchen to preserve the Summer bounty, and classes to share their skills with folks who want to learn. And, it meant a whole new dining experience in the Supperhouse, where Marcus built the dreamy wood-fired Hearth in order to properly showcase the meats and vegetables we so highly revere.
We hope you will join us for dinner, brunch, lunch or to take home some of the meats we work so hard to bring you. Or, join us for a class and learn how to do it yourself!